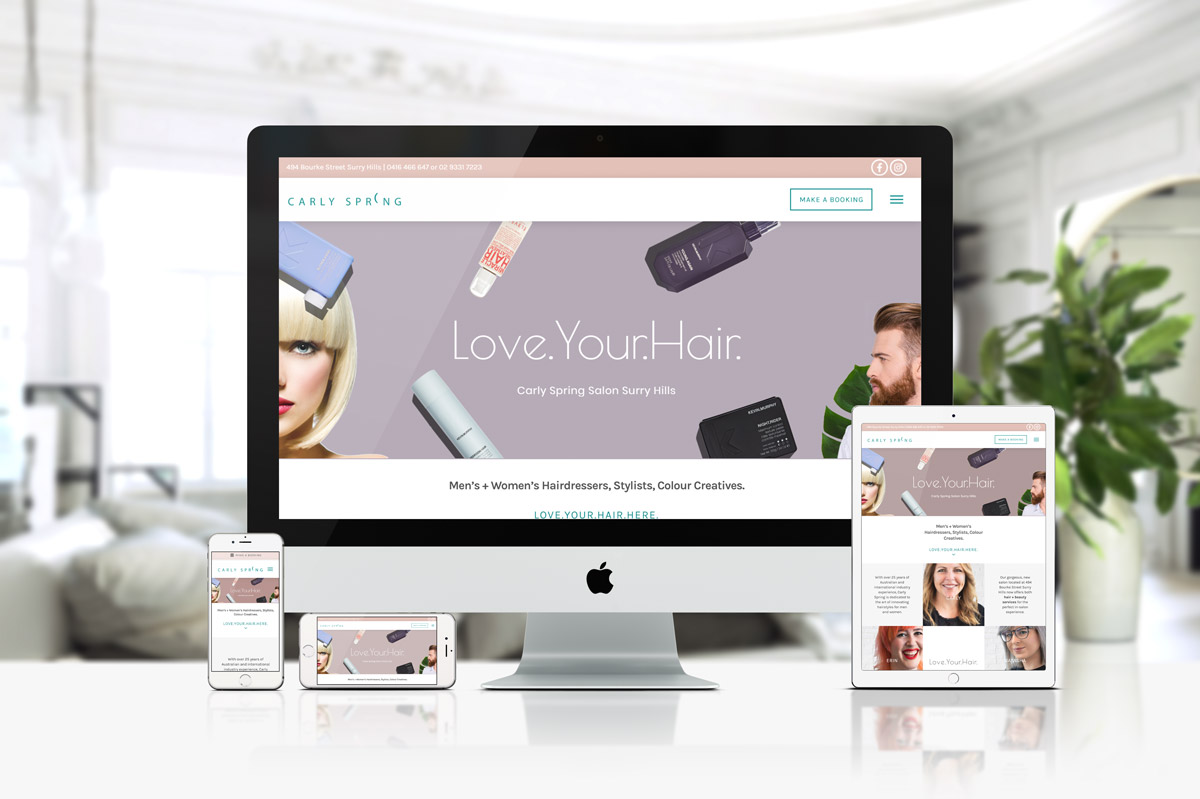 ---
Carly Spring Hair + Beauty
Who: CARLY SPRING HAIR + BEAUTY
Completed: 2019
Location: SURRY HILLS, SYDNEY
Web Design: DESIGN COUNSEL
Logo Design: DESIGN COUNSEL
Business Cards: DESIGN COUNSEL
Content: DESIGN COUNSEL
Carly Spring Hair + Beauty salon is located on Bourke Street in Sydney's Surry Hills.  Due to its growing popularity, the salon moved the new, larger premises at the start of 2019 and with it, they required a new-look website and logo revamp.
Design Counsel was hired to redesign the site, modernise the logo and design business cards, referral and promotional print collateral.
Carly wanted a modern and fresh brochure site with pops of colour to capture the personality of the salon, its location and the staff.  In addition, the site needed to show it was unisex along with driving online bookings and showcasing their talented team of stylists without looking like a typical hairdressing website.
Timelines for the site were as tight as they deadlines they were working to when moving premises so the initial web design had to be built prior to the new premises being photographed creating a challenge with visual design.
To address the requirements along with the challenges of no imagery, DC used a quirky single animated slider.  Within the slider, we used colours in-line with brands they carry including Kevin Murphy and Eleven Australia in conjunction with their branding colours and visually conveyed the salon caters to men and women.
Logo work was kept simple and close to the original but modernised.